Martin Katzenstein, M.D. '78, is Appointed Assistant Dean for Clinical Affiliations
Dr. Katzenstein will help the SOM continue and expand its extensive network of affiliated hospitals and clinical sites.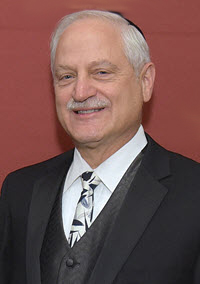 Martin Katzenstein, M.D. '78
The New York Medical College (NYMC) SOM has appointed Martin Katzenstein, M.D. '78, associate professor of pediatrics, as assistant dean for clinical affiliations. In this new role, Dr. Katzenstein will assist with the development of new and established medical student clinical affiliate site rotations at the varied hospitals and ambulatory centers, physician practices and outpatient preceptor sites.
A NYMC graduate, Dr. Katzenstein has served on the faculty at NYMC since 1984. Dr. Katzenstein has chaired the College's Board of Advisors since 2014 after years of being a member of the Board, which is comprised of leading professional, communal, philanthropic and business leaders, tasked with providing ongoing guidance, support and resources, for the growth and development of NYMC. Dr. Katzenstein also serves as vice president for community affairs for Touro College and University System (TCUS) and as a member of Touro's Board of Governors.
"At NYMC, we take great pride in our robust network of affiliated hospitals and ambulatory care sites that offer our students an outstanding range of educational opportunities to further develop their clinical skills," said Jerry L. Nadler, M.D., MACP, FAHA, FACE, dean of the SOM. "As a faculty member with the SOM for nearly 40 years, chair of the Board of Advisors at NYMC and a NYMC graduate, Dr. Katzenstein's long-standing commitment to both the SOM and our students makes him an ideal candidate for this important role. Last year, Dr. Katzenstein played an integral role in securing the SOM's clinical affiliations with Westmed Medical Group and Refuah Health Center."
"I am so pleased to accept this new appointment. I feel privileged to help the medical school that I graduated from in 1978 and I look forward to working with the NYMC administrative staff to provide a meaningful experience for our students," said Dr. Katzenstein.
Dr. Katzenstein currently serves as chief of service and director of neonatology at Good Samaritan Hospital in Suffern, New York, and as director of community alliances for Boston Children's Health Physicians as well as an attending neonatologist at Westchester Medical Center. He previously served as chief of neonatology at Montefiore North, Our Lady of Mercy Medical Center and St. Agnes Medical Center.